We are a professional Traipzoid Reveal Strip (Magnetic Steel Chamfer) manufacturer and supplier in China. Here you can find high-quality products in a competitive price. Also we supply OEM service of products for you.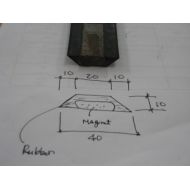 Magnetic Trapezoid Strip are available with triangular
and trapezional shape. Made out of Pulyurethane
or Steel.

Address:

Xiaoyue Industrial Zone, Shangyu City, Zhejiang Province, China